Certified Organic Lamb
Certified Organic Lamb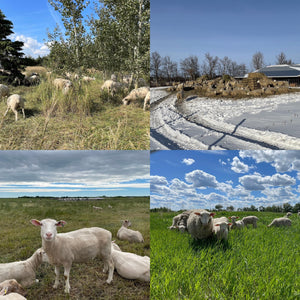 Our certified organic lamb.
Our lambs are raised with care here on our farm. In the late spring summer and fall they are moved onto fresh pasture every day or two in order to ensure they have access to fresh grass. In the winter they are fed certified organic hay and have access to shelter from the wind and snow. During lambing the ewes are monitored closely and when lambing moved with their lambs to their own area where they can be kept warm and dry. Throughout the year they are supplemented with a small amount of certified organic oats. 
We have a variety of lamb cuts available including:
Rack Of Lamb
Lamb Chops
Leg of Lamb Boneless
Lamb Shoulder Roast
Lamb Stew
Ground Lamb
Lamb Ribs
Lamb Shank
Lamb Soup Bones
Lamb Necks
Lamb Liver
Lamb Kidneys
Lamb Heart
Our lamb is a seasonal product and is only available for a few months every year. We anticipate that we will be out of lamb around the end of March or beginning of April. Our next lambs will not be ready until this coming fall or early winter. Now is a great time to stock the freezer to ensure that you have lamb for your table in the spring and summer.
All cuts are vacuum packaged in order to ensure the longest shelf life in the freezer.
Our Lamb is available for in person purchase at all of our own locations in Edmonton and Calgary. We also have lamb boxes available for online pre-order through our website. https://sunworksfarm.com/collections/turkey