Whole, Half, Quarter Pork
Whole, Half, Quarter Pork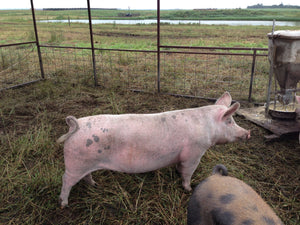 Purchasing our organic and certified humane pork by the whole, half or quarter is a very economical way to have some pork in your freezer.
Ordering a whole, half or mixed quarter of pork can be a complicated endeavor. We have done our best to make this as simple as possible for you and for us and our staff. We charge a flat price per kilogram for each whole, half or quarter. (All costs are included in this price. There are no added cut and wrap fees or charges.) Each whole, half or quarter also contains a specific number of each cut of pork so you know exactly what you will be getting.
A Mixed Quarter is made up of one quarter of all the cuts that would come from one whole pork. By doing mixed quarters you receive a good selection of all of the cuts of meat. 
The price shown is an approximate price. The final price is dependant on the exact weight of your packaged quarter, half or whole. The weight will vary slightly as every animal is different. We will let you know the final price once the animal is processed and packaged.
Important Information About Ordering Our Mixed Quarters, Halves or Whole Pork
Your order will come in boxes and pickup will be at any of our own locations in Calgary or Edmonton. Camrose pickups can be arranged.
The meat you receive will be frozen and vacuum packed in order to give you the longest life in the freezer. (pork bones will not be vacuum packed as the bones puncture the cryovac bag too easily.)
All items will be labeled with the name of the item.
We take a $100 non-refundable deposit per quarter at the time you place your order. The deposit for 1 quarter is $100, for a half is $200 and for a whole is $400. We need your order placed three weeks before you would like to pick up your meat.
No substitutions are available for any of the cuts in our wholes, halves or quarters. The reason that we are able to bring this to you at this price is that we are able to save on labour costs. If you would like to add more of certain cuts of pork, or buy any of our pork sausages or deli meats you can pick these up at your pickup location. All of our chicken, turkey, beef, eggs, sausages(chicken, pork and beef) and deli meats are also available at your pickup location. 
Are you sharing your whole, half or quarter with a family member or friend? We will not be able to divide the orders into smaller portions. If you are sharing with someone you will be responsible for dividing it up with them at home.
Freezer Room Needed. We are often asked how much room do I need in my freezer to accommodate a whole, half or quarter pig. For a quarter pig you would need approx. 4 cubic feet of freezer room. For a half you would need approx. 8 cubic feet and for a whole you would need approx. 16 cubic feet.
To order a whole, half or mixed quarter please call us at the farm office 1-877-393-3133.
For more information on how we raise our pork Click Here