Stretch Your Organic Foods Dollars Further
Stretch Your Organic Foods Dollars Further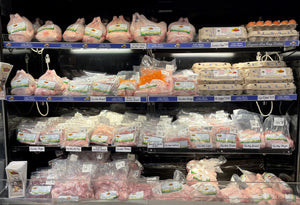 As the price of food continues to rise it becomes more difficult to make your food dollars stretch especially when you want to eat Organic. Our goal has always been to make organic meat products available to as many people as possible at the fairest price. Fair to you and fair to us, the farmers.
There are various ways you can make your organic foods dollars stretch further but the number one way is to buy directly from the farmer. You can buy direct from us at our locations, that we own and manage, in Edmonton, and Calgary. For a list of our own locations please visit  https://sunworksfarm.com/pages/where-to-buy-our-products The prices are the same in all of our own locations.
We can offer our customers some of the best savings on frozen product. We sell mainly fresh but always have some extra frozen product that we need to move out of our freezer here at the farm. Our online boxes of product are 5% to 30% off. When you pre-order these boxes, you can pick them up for free at one of our own locations or we offer delivery to your door for a flat rate delivery fee of $10.95.
To stay informed about sales on our products we highly recommend signing up for our email newsletter. You will then receive an email whenever we have a sale on some of our products. It is also a great way to keep up to date on everything that is happening here on the farm. You can sign up at the bottom of our website pages under the title "Keep In Touch"
You can also save money by buying less expensive cuts of meat. For example a whole chicken is the most economical of our chicken products. If you need a chicken cut up you can do it yourself and save some money. https://sunworksfarm.com/.../how-to-cut-up-a-whole-chicken . Ground beef is also an extremely economical and versatile meat. If you would like a price list of our products so you can compare different cuts please email us or if you would like to talk to someone at the farm about the most economical cuts please call our daughter Shae at the farm 1-877-393-3133.
During the last six months, the cost of production on our meats has gone up dramatically. Packaging materials have doubled in price, the hay, wheat and grains that we buy to feed our animal have doubled in the last year and are at an all time high. Parts, lumber, fuel, and steel have also gone up dramatically. We are doing everything we can to not raise the price of our products. We have looked at all of our costs to determine where in our farm, processing facilities and retail locations we can be as efficient as possible. We already raise, cut and package all of our animals ourselves, and all our products are taken directly from our meat cutting facility here on the farm to our locations to exclude third party shipping costs, however we are always looking for new ways to be more efficient with our time and money. We realize if we have extra costs, they have to be passed on to you so we are being as cost effective as possible.
In all of the decisions we make on the farm and in our business we will not compromise our values of humanely raising animals and practicing organic animal agriculture. Our goals have always been to give our customers clean, pure ethical food raised with uncompromised values at the fairest price possible.
Your Farmers
Ron and Sheila Hamilton