Small batch, Artisanal, Sausages.
Small batch, Artisanal, Sausages.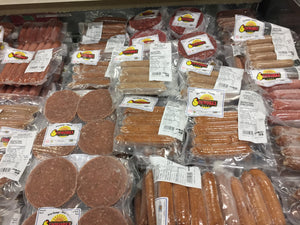 The art of sausage making from scratch, without pre-mixes was, for a very long time, a lost art. We created our own sausage recipes because we could not find any butchers who were able to create the allergy friendly sausages that we needed. We could not eat the sausages that were available due to our family's allergies and food sensitivities. When we asked butcher shops what was in their sausages they would pull out a bag of pre-mixed seasoning containing the spices, salt, binding agent and cure (the chemical preservatives). When asked to make something from scratch without binders or chemicals most were very hesitant or unwilling to as they did not have the skills or desire.
We were lucky to find some butchers who were willing to work with us and experiment with new flavors and recipes. These were butchers who were interested in reviving old skills and digging through old cookbooks and recipe cards to find the recipes that were used long before pre-packaged sausage mixes became the norm. In 2010 we were able to open our own butcher shop, with our master butcher Carlos in charge. Having our own shop and Carlos' skills allowed us to create even more sausage flavors and tweak the old recipes until they were just the way we wanted them.
Although made with modern equipment, the process used to make our sausages has not changed much from the way sausages were made for centuries. Our own certified organic meat is measured out by hand and ground to the perfect consistency. Certified organic spices are gathered and measured out according to the recipe. If the recipe calls for honey or maple syrup these are measured and added to give the sausages the perfect amount of organic sweetness. The spices are gently combined with the meat until they are well mixed. They are then put in an allergy friendly collagen casing and flash frozen to maintain their freshness. This simple process and the simple ingredients equal wonderful flavor.
We do not use any binders, fillers, preservatives, corn syrup, cane sugar, MSG, artificial flavors or colours. Our sausages are made with ingredients that you know and can recognise, without having to reference a dictionary.
We are proud to be able to feed our family and yours our simply made, small batch, artisanal sausages. Wonderful flavor, with only healthy ingredients.