How To Cook Our Sausages
How To Cook Our Sausages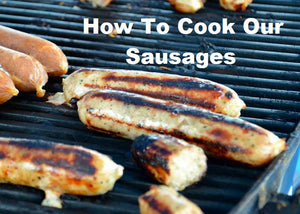 You can cook our sausages from fresh or frozen many different ways (BBQ, Bake, or Fry). Our families favorite is to BBQ them or bake them in the oven. Our family cooks the sausages uncovered from frozen in the oven at 375°F for 25 to 30 min or until they reach a internal temperature of 165°F. The time it takes for them to cook in both the oven and on the BBQ will vary between ovens and BBQ's as each is slightly different. You can cook them at a variety of temperatures, frozen or thawed, covered or uncovered. If you would like a crispy outside we recommend cooking them uncovered, so that they can brown. We do not recommend boiling them as they are very lean so it dries them out and it washes out the flavours.
Our sausages are made with our own certified organic meat, salt, certified organic spices and when needed for a bit of sweetness, certified organic honey or maple syrup.
Our sausages do not contain any preservatives, cultured plant extracts, nitrates, sulphates, or msg, . They are gluten free, dairy free, egg free, soy free, corn free and nut free. They do not contain any artificial flavors or colors.