Taco Smash Burger Recipe
Taco Smash Burger Recipe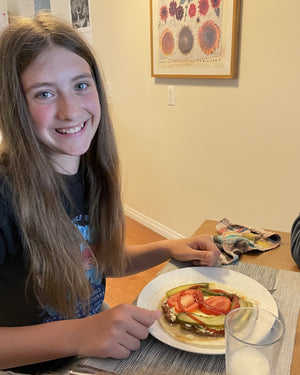 Taco Smash Burgers
Looking to try something different? Our daughter Shae's family tried this new way of cooking burgers and have been raving about it ever since. Here is her instructions for Taco Smash Burgers.
Thin crispy beef or pork, in a tortilla filled with your favorite burger toppings. The options of customization are endless, and you can change it up every time you make them.
Ingredients:
One package of our organic ground beef (regular or extra lean) or ground pork. approx. 454g.
Your favourite burger spice.
Tortillas (wheat, gluten-free or corn tortillas)
Cheese (this is optional)
Your favourite burger toppings: lettuce, pickles, tomatoes, mayonnaise, mustard, mushrooms, bacon, ketchup, onions, etc.
Instructions:
Preheat a gridle or cast-iron pan on the BBQ or a frying pan on the stove top on medium high heat
Season your beef with your favorite burger spice and mix the spice well into the ground beef.
Form the ground beef into balls between the size of a golf ball and tennis ball. The size of the ground beef ball will depend on the size of the tortilla you are using.
Place the beef on the hot skillet then add the tortilla on top and press the burger down using the tortilla until the burger is extremely thin and spread out under the tortilla. I have used a spatula, flipper or another pan to do the pressing.
Cook until the burger is cooked through and crispy. Because the meat is so thin this will not take very long. Depending on how hot your pan is between approx. 3 to 5 minutes.
Flip the tortilla and burger so that the tortilla is on the bottom and if desired add cheese to the burger. Cook for approx. 1 min to melt cheese being careful that the tortilla does not start to burn. If my pan is very hot, I will often put the grated cheese on when the burger is on the plate in order to prevent the tortilla from burning.
Remove burger to plate, add desired toppings, fold like a taco and enjoy.