How To Support Local Businesses and Farms
How To Support Local Businesses and Farms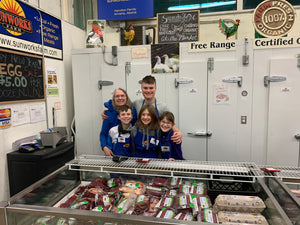 During a recent conversation about supporting local business with one of our long-time customers at the farmers market we talked about how everyone could help local businesses and farmers. We came up with the following ideas.
Shop small and local first. We all know that stopping at a large box store or grocery store is easy, but these stores have large corporations to back them up. The small independent stores and farmers at farmers markets rely solely on their customers for their support. If you need an item see if a small, independent business or farmer has what you need first before running to a box store or the online giants.
Share small business posts on social media. Small business and farms use social media as an economical way to keep their customers informed and spread the word about their products. They do not have the budgets for large advertising campaigns. Following their pages/feeds and sharing and commenting on their posts help these businesses get the word out and help them get new customers. All this helps make them more sustainable and more likely to be able to survive these crazy times.
Show off your purchases on your own social media feeds. Bought something from a small local retailer or farmer? If you really liked it, post it on your own social media feed tagging the small business or farmer you got it from. Word of mouth is incredibly important for businesses that may not have large store fronts to attract attention.
Have patience with your local business. Like all of us they are adapting to a new and ever-changing reality. There are dramatic swings in demand and these swings are impossible to predict. They are dealing with new rules, staff changes and shortages and supply chain interruptions. Be kind and patient as they try and keep up, as they try new ideas for shopping and as they personally navigate our new reality. Small businesses have had to, and continue to, adapt at a rapid pace, and they do not have the resources to hire out the work for many of these changes. They need us to understand that they are doing their best.
Supporting small businesses and farms has a huge impact on our local economy. It supports their families, provides jobs in our communities, they buy their supplies in our communities and they make donations to the local charity auctions and fundraisers. Anything you can do to support a local business or farm is very much appreciated by them, their family, their staff and your community at large.
Thank you for all of your support.
Your Farmers
Ron and Sheila Hamilton and Family
Photo of Sheila and her grandchildren working at the Old Strathcona Farmers Market (taken before Covid-19)