Certified Humane for 20 years
Certified Humane for 20 years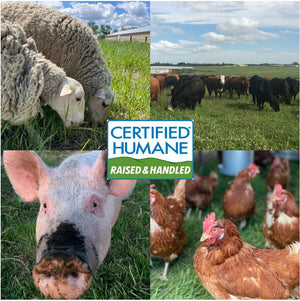 This year marks 20th anniversary of our farm being Humane Certified!
We are committed to raising our animals in a humane, respectful and dignified manner.
We were first certified humane in 2003 by the Winnipeg Humane Society. Although the humane certifications for farm animals was an new idea it was an easy fit for us. We already strongly believed in the importance of raising animals humanely and had made it one of our core values that we had written out in 1996. We had also been following the organic animal welfare standards since our first organic certification in 1993.
In 1995 we moved to the newly created BC SPCA Certified program. This was a great Canadian program that not only certified farms to their stringent humane standards but also promoted the importance of the humane treatment of farm animals. When the BC SPCA stopped their certification program we joined the Certified Humane program.
Certified Humane is a certification from the US that has stringent standards for the humane treatment of farm animals from birth through processing. These standards were created in order to ensure that farm animals are free from: hunger and thirst; pain, injury and disease; distress; discomfort; with the freedom to express natural behaviors that promote well-being.
Humane certification ensures that we are inspected every year. During this audit, they inspect our animals and their environment to ensure their living conditions meet or exceed the Certified Humane standard. They also inspect the processing of all of our animals ensuring that the humane standards are being followed from beginning to end. 
Although the certifying bodies have changed over the last 20 years our commitment to being humane certified and raising animals in as humane and respectful way as possible has not and will not change.  By being humane certified, you as a consumer know the high standard we are following and can have the confidence that our animals are raised humanely with respect.
Your Farmers 
Ron and Sheila